Cooking
Showing 1–12 of 22 results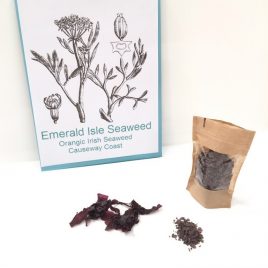 Organic Dulse Flakes Flavour Enhancer or Salt Replacement
Dulse flakes 30 grams.
The seaweed granules can be used as a flavour enhancer or as a salt replacement, it also can help lengthen the shelf life of food.
 A great way to add seaweed in practically anything savoury you eat.
Sustainable hand-harvested from the coast of Ireland. Certified Organic by the Irish Organic Farmers and Growers Association. Dulse's properties are similar to those of a flavour-enhancer. It is commonly referred to as dillisk on the west coast of Ireland. Dillisk is usually dried and sold as a snack food from stalls in seaside towns by periwinkle-sellers. Fresh dulse can be eaten directly off the rocks before sun-drying. Sun-dried dulse is eaten as is or is ground to flakes or a powder. In Iceland, the tradition is to eat it with butter. It can be pan-fried quickly into chips, baked in the oven covered with cheese, with salsa, or simply microwaved briefly. It can be used in soups, chowders, sandwiches and salads, or added to bread/pizza dough. Finely diced, it can be used as a flavour enhancer in meat dishes, such as chili, in place of mono sodium glutamate. Dulse contains iodine, which prevents goitre. Dulse is a good source of minerals and vitamins compared with other vegetables, contains all trace elements needed by humans, and has a high protein content.
not rated
£

5.95 Payment group name bath ireland
Add to cart