spirulina
Showing all 5 results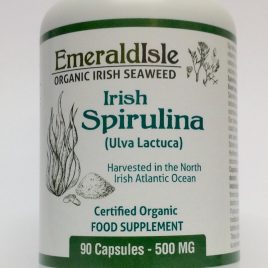 Irish Spirulina Capsules (ulva lactuca Spiralis)
Irish Spirulina Capsules are Certified Organic.
Irish Spirulina seaweed is a completely natural, organic product and a source of over 70 vitamins and minerals (nothing added) a rich source of Calcium, Iron and Magnesium. We treat our seaweed in an entirely natural way, hand harvested, hand dried and chopped. No chemicals or any other substance is used in production. No microwave, or any harmful process is undertake. Emerald Isle Seaweed Organic Spriulina Tablet (500mg) 90 capsules. Total of 45 grams of pure 100% Spirulina Ulva Lactuca seaweed in 90 capsules.  Serving Size 1-3 tablet (HPMC capsule) Suitable for vegetarians and vegans.
Capsules can be opened and flakes sprinkled onto your food if desired.
Differences in iodine content in all Emerald Isle Seaweed Capsules. Triple blend has a low iodine content of 140 mcg 1-2 capsules per day Kelp has a high iodine content of 737 mcg 1 capsule per day Dulse capsules has a low content 132 mcg iodine content Spirulina capsules 350 mcg iodine content Bladder wrack capsules 250 mcg iodine content
not rated
£

16.00 –

£

45.00 Payment group name bath ireland
Select options