Irish wakame
Showing all 2 results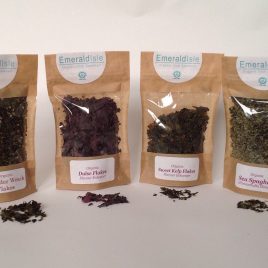 not rated
£

5.95 –

£

40.00 Payment group name bath ireland
Select options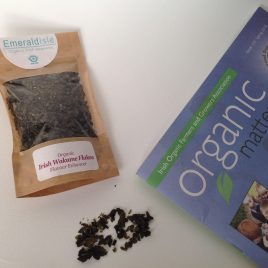 Protected: Organic Irish Wakame Granules Flavour Enhancer
Irish Wakame or in Ireland 

Láir or Láracha    20 grams
Wakame is a rich source of eicosapentaenoic acid, an omega 3 fatty acid. At over 400 mg/100 kcal or almost 1 mg/kJ, it has one of the higher nutrient: calorie ratios for this nutrient, and among the very highest for a vegetarian source.
Cooked
Irish Wakame is a sea vegetable, or edible seaweed. It has a subtly sweet flavour and is most often served in soups, pasta, stir fry and salads.
High in Iodine, Calcium and Magnesium. 
Use only 1/2 table spoon pps
The seaweed granules can be used as a flavour enhancer or as a salt replacement, it also can help lengthen the shelf life of food.
 A great way to add seaweed in practically anything savoury you eat.
Certified Organic by the Irish Organic Farmers and Growers Association.
not rated
Read more